The Green Colt Wins Gold
At the 14th annual Will Rogers Medallion Award Banquet hosted Saturday evening, October 28, in Ft. Worth, 44 authors and publishers were presented Will Rogers Medallion Awards Honoring Excellence in Western Media in 12 categories.
"The quality and level of excellence of the books being awarded keeps going up, and this year was a prime example of that" noted Charles Williams, Executive Director.  "It is a tribute both to the enduring appeal of the West, and to the high quality of publications being produced today."
Book four in the Wilder Good series, The Green Colt, was awarded the gold medal in the "Younger Readers" category.  This is the second gold medal for the Wilder Good series as book #2, Texas Grit, also received the award in 2015.
Western Fiction—Younger Readers
1st place: The Green Colt, The Adventures of Wilder Good, by S. J. Dahlstrom ( Paul Dry Books)
2nd place: Good Water, by John D. Nesbitt (Five Star)                                                       
3rd place: Hidden Regrets/A Good Man Gone, by Randall Dale (Horizons West Publishing)
4th Place: River of Cattle, by Alice Brock (Pen-L Publishing)
The Green Colt has won three awards total, including the Wrangler from the Western Heritage Awards and a Spur Finalist from the Western Writers of America.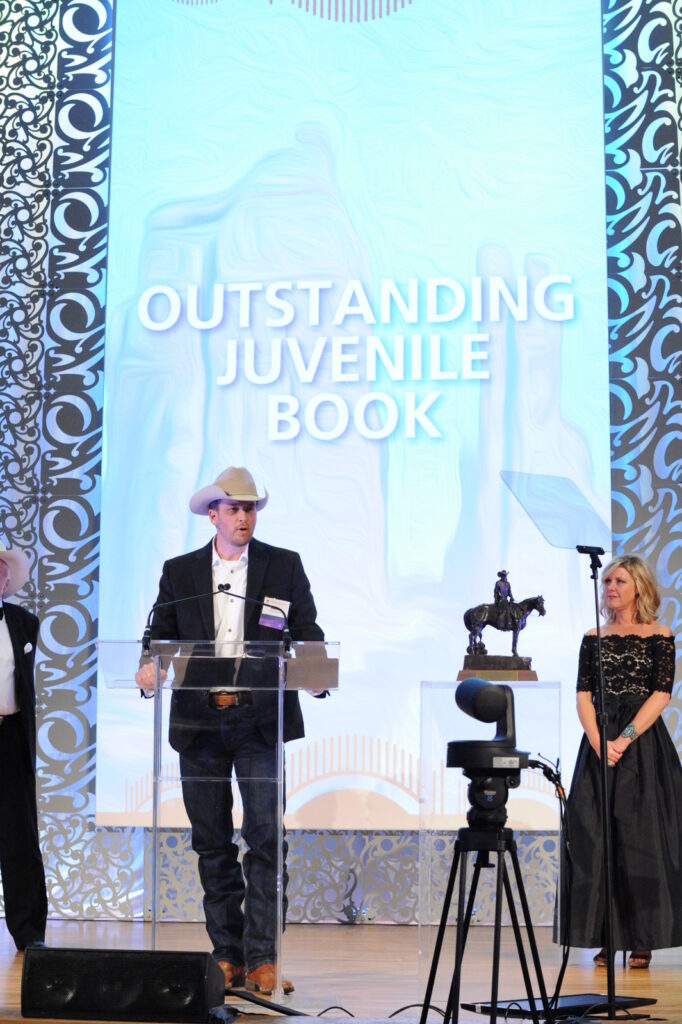 The Green Colt receives Wrangler Award in Oklahoma City
Click on image above for video of acceptance speech or read text below…
I'd like to thank my children for inspiring my writing, my wife for supporting it, and my publisher, Paul Dry Books, for believing in it. The success of the student is equally the success of the master. In that sense, my mentor, author John R. Erickson who first won this award in 2007, receives this award again today.
Our children are being brought into a world of constant flickering distraction and amusement. We should not forget that we have real adventure to offer them, if we can have the courage to turn off their machines and screens and take them outside.  The strenuous life in the West, that is…our western heritage, is still wild, and it does not require zombies, vampires, wizards or wimps.
We have rattlesnakes and rivers, mountains, prairies, young horses and mean horses, horned ruminants and thorned mesquite and cactus, dark nights, cold winters, and more than enough drought and fire.  The elders among us know all these antagonists well.  Let us go outdoors and face the difficult beauty of the world.  Let us remember the glory of what it was to Be Wilder.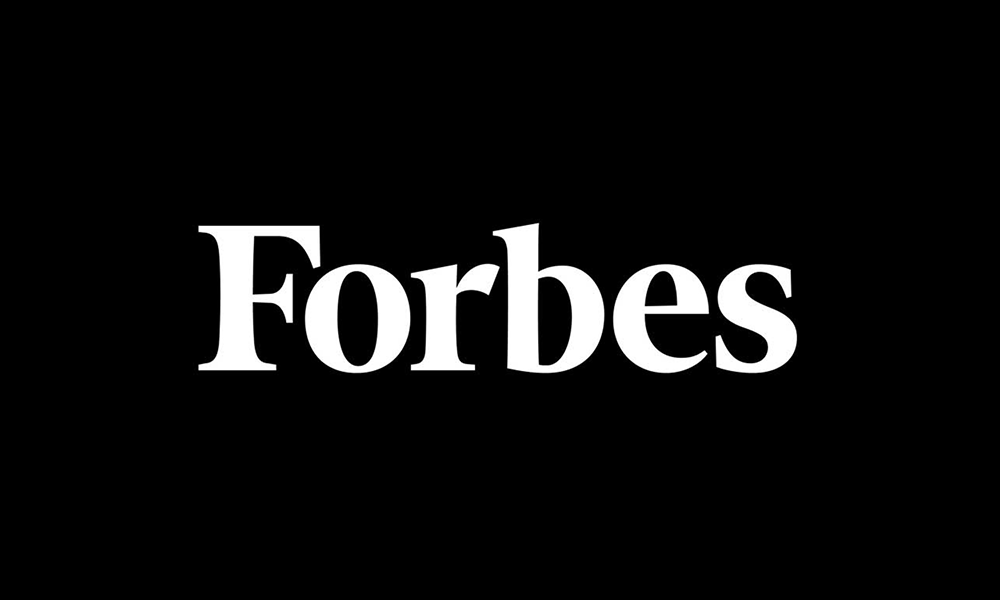 "Dahlstrom's superb writing takes Wilder through those anxiety-producing years between childhood and adulthood, when life's simplest and most important lessons are learned." – review December 2015 by Christopher B. Nelson

"Dahlstrom writes about ranch life with flair and specific detail." – review October 2014 by Susan Olasky

"I was pleased to read a story that felt like an old pair of well-worn jeans and boots, familiar and comfortable." – review June 2014 by Lis Penney
"As a mom, I appreciated the moral tone of the book.  It isn't at all preachy, but it models healthy relationships between the generations, loyalty, bravery, perseverance, responsibility, and respect for wildlife, without going overboard in any direction."

"Children's Books: In the Wilderness, Rites of Passage"  -review April 18, 2014 by Meghan Cox Gurdon
Less emotionally complicated and considerably more earnest and technical, S.J. Dahlstrom's "The Elk Hunt: The Adventure Begins" (Paul Dry Books, 101 pages, $7.95), which came out last summer, follows a similar plot, though without the earthy humor. The main character here is Wilder Good, a 12-year-old from southern Colorado who, like Tyson, goes hunting for his first elk with a tough and admirable old man. Both boys struggle to project courage in front of their mentors; both manage to bring down an animal; and both, suddenly and terrifyingly, find themselves briefly turned into prey.
It must be said that neither of these books would suit the fastidious reader, on the grounds of either gore or grammar (Tyson is a particular offender, constantly calling himself "me" when he means "I"). These are hunting stories: There is lots of blood. Both books dwell in detail on field dressing, the gruesome business of gutting a freshly killed carcass. After Tyson disembowels his kill in "There Will Be Bears," he has Gene take a picture, "and I make a really big smile because no one would ever believe I could do all this." For Wilder Good, there is something almost holy about the butchering: "If you were smelling this mix of blood and heat, then you were in an inner circle of men. These were wild aromas, far from the schoolroom, church building, or city. Like a secret handshake, these smells meant that you were among a higher class. Men who were the best men Wilder knew. The kind of man he wanted, and intended, to be."
24 Frames interview on PBS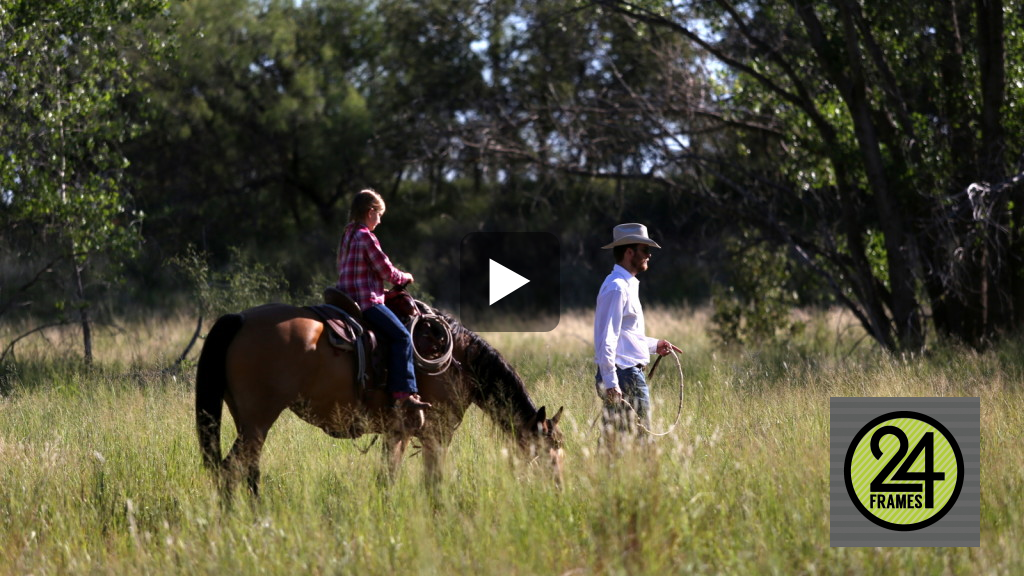 Book signing – Lubbock Christian University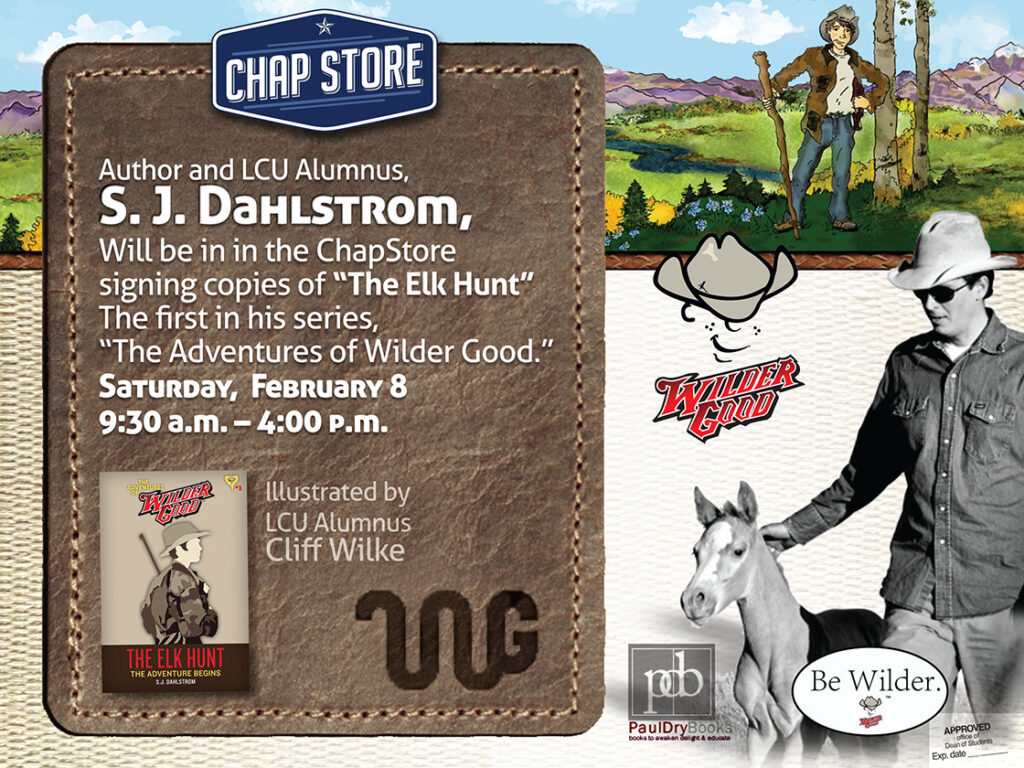 'The Elk Hunt' AR Quiz
An Accelerated Reader quiz is now available for The Elk Hunt : The Adventure Begins.  Accelerated Reader by Renaissance Learning is a nationwide database and learning program used in thousands of schools across the US.  When a student has read a book, a ten question quiz can be taken to assess and track the student's reading.  Millions of quizzes covering all levels of reading are taken every day using the program.
AR has rated The Elk Hunt with an ATOS reading level of 5.6 and recommended it for the middle grades, 4th-8th.
Review from an Elementary School English Teacher –
"Tyler came in my room reluctant and unsure of himself.  That was his personality but also as a reader, he was reluctant.  He knew that he wanted to be part of something bigger than the "baby" books I kept offering him.  He wanted to be part of the group of kids who read and love to read."
"My first goal in teaching children to become readers is to help them discover that reading is enjoyable.  Second, I want to make lifetime readers.  I was not getting anywhere with these goals with this particular student.  I had offered book after book.  I picked out several books from the library to show him.  He turned his nose up at every single one of them. He had no interest in them."
"Then one day Tyler saw Wilder Good : The Elk Hunt sitting on my desk.  He pointed to it and said, "I want to read that book."  This is the first time those words had been said by this student.  I decided to give him a copy to read at home."
"The book immediately became more than a book.  It became a trophy, a rite of passage into the world of readers.  He carried it around and showed a couple of other students, who then wanted their own copy.  He set it carefully at the top of his desk for everyone to see."
"Soon after, another student in my class began reading Wilder Good.  Then they started discussing daily what chapter they were on.  Tyler was not only reading, he was leading an informal reading group!"
Favorites of 2013 'Wilder Good' – Texas Reads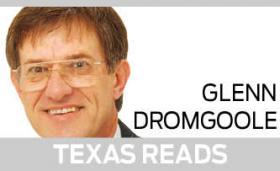 Post, TX – Book signing at Ruby Lane Books December 14th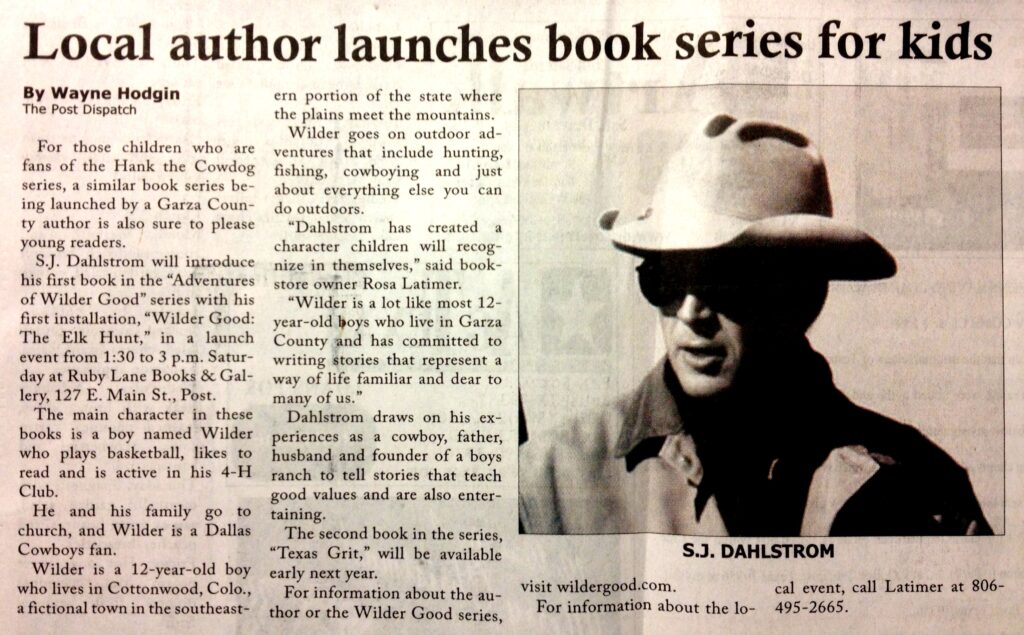 Lubbock Christian School – Reading and book signing on December 9th

The Christian Chronicle – Holiday Gift Guide 2013

Texas Homeschool Coalition reviews Wilder Good : The Elk Hunt.
"This is a refreshing book about boys who are allowed to be boys so that they can grow to be men."  click on link to read full review…

Dromgoole: Local author writes series for boys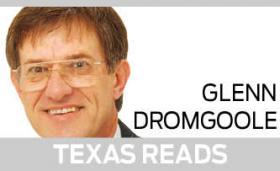 Filson article – Kids Built Like Filson with S.J. Dahlstrom
I want to raise kids built like Filson – tough, refined and comfortable in the outdoors…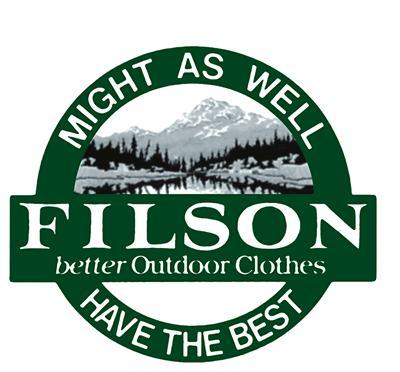 Kirkus Review – October '13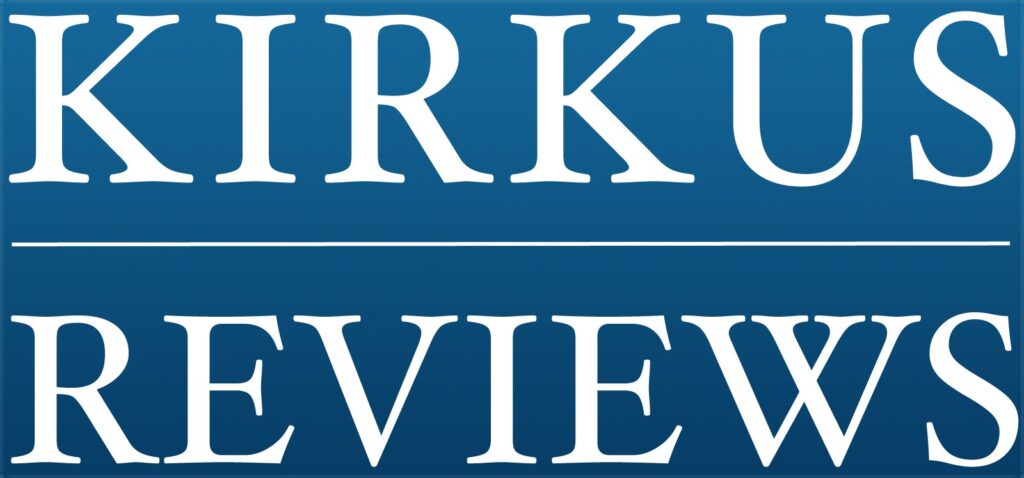 Book signing – at B&N with Literacy Lubbock – October 5th, 1-3pm

 Book signing – Hastings in Lubbock, TX on September 21st, 4-6pm

Lubbock Avalanche-Journal review by religion editor, Beth Pratt
"The Elk Hunt: the Adventure begins" is a 101-page paperback book that earns its place in my estimation because it does not "talk down" in vocabulary or topic to the younger reader.
I'm looking forward to purchasing this series for our church library collection, and I will be the first to read the second of Wilder Good's adventures, titled "Texas Grit," because Dahlstrom makes me care about this boy and his future.
read the full review on the link below…
Book-signing at the National Cowboy Symposium – September 5-8

Pratt on Texas interview and book giveaway – August 30 from 5-7pm
"Among the best books for young boys I've seen in  years. This is classic Americana, values and all. Make sure the boys in your family get in on the Wilder Good series." – Robert Pratt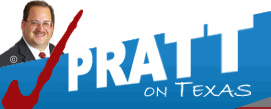 KTAB interview at Ruby Lane Books in Post, TX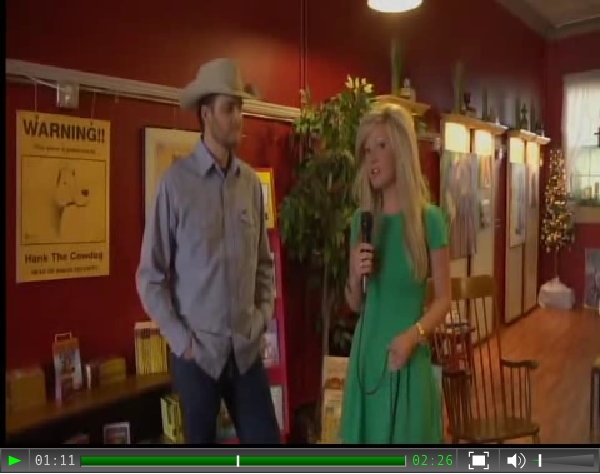 Family Fiction Magazine